About Science Rendezvous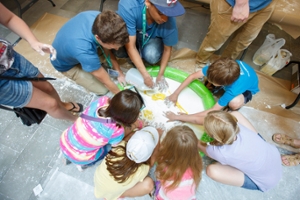 Science Rendezvous has been a popular tradition since the inaugural event in 2008 with just a handful of venues participating. It is Ontario's largest public science festival and in 2011 it was held nationwide for the first time.
Proud to be a founding partner of Science Rendezvous in 2008, Ontario Tech University is pleased to once again have Durham College as a co-host of this exciting community event!
This free grassroots festival, targeted to all age groups, makes science accessible to thousands of people with a day of engaging, informative and interactive events. From university labs to shopping malls and farmers' markets to hospitals, science champions from across the province take their passions to the people to encourage a public understanding of the great impact science and technology has on our lives and our changing world.
In 2019, Science Rendezvous attracted more than 215,000 participants at more than 300 events across 30 cities within Canada. Science Rendezvous continues to develop collaborative partnerships between educational, civic, science-based associations and outreach programs and business institutions to promote science awareness as well as science culture and literacy.
Science Rendezvous is one-day festival-style celebration for all the public, for free!
Just show up on Saturday, May 9 and celebrate science with us!
Visit the national Science Rendezvous website: sciencerendezvous.ca.