Science Rendezvous
IMPORTANT NOTICE:
It is with heavy hearts that we officially announce that Science Rendezvous 2020 is cancelled.  Last week, due to the growing concern over the Coronavirus (COVID-19) and with our commitment to our community's health and wellness in mind, we made the decision to cancel all Science Rendezvous events nationally scheduled for May 9, 2020. 
At this time we do not see an appropriate way to reschedule this event within 2020.  We feel strongly that the responsible thing to do is to look to the future and plan to hold Science Rendezvous next year on May 8, 2021.
We do not take lightly that the cancellation of so many events has a significant impact on everyone involved. Nonetheless, we know that this is the right decision, that we must do our part to help keep our communities safe and healthy through this challenging time.
We thank you all for your continued support and your commitment to each other's safety, health, and science.
We look forward to seeing you on May 8, 2021!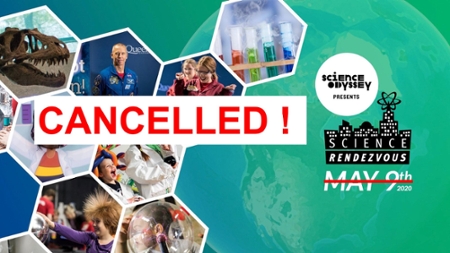 Ontario Tech University
Durham College

2000 Simcoe Street North
Oshawa, Ontario
Energy Systems and Nuclear Science Research Centre
Business and Information Technology Building

We're ready to "STEAM Green" at Science Rendezvous as Ontario Tech University and Durham College welcome inquiring minds of all ages to experience science and the science behind art. Meet the scientists who turn innovative research ideas into real solutions for society. Experience the thrill of science by participating in many fun interactive science activities!
Participate in our exciting hands-on activities.
See a variety of cool science demonstrations. 
Sign up for one of our Mini-Workshops where you can conduct a real mini science experiment. 
Sign up for the Family Escape Room where you solve a science scenario.
Build a DaVinci bridge.
Join us for our Grand Finale Celebration: Prizes, prizes and more prizes, plus a really fun Science Rendezvous surprise activity. Shhhh...we can't tell you what it is; you have to come and find out!
When you arrive, come to the welcome desk in the Energy Systems and Nuclear Science Research Centre (ERC) where you can:
Pick up your official Science Rendezvous passport and collect stickers as you visit each activity throughout the day.
Enter the prize draw.
Sign up for the Mini-Workshops and tours.
Plan your day with the many exciting, free events taking place on campus.
Parking is free. 
As part of our "STEAM Green" theme this year, we encourage you to bring your own packed lunch and a refillable water bottle. 
Note: Other lunch options are available off campus (but nearby) for purchase. Please ask for details at our welcome desk.